blindsight
Member Since 13 May 2011
Offline
Last Active Jan 10 2012 06:10 PM
About Me
Thanks for visiting--> unfortunately i'll be gone for about 5 months...i'll be back sometime between September and November, i might pop up from time to time
you can add me on facebook ( just introduce yourself ): charm_sy36@yahoo.com
I love to draw though I'm never good at it
, I love to read tons of books and play games for hours and hours. I won't leave my room unless it breakfast lunch and dinner, and school. My motto is to ' Enjoy life you only get one.' I never judge nor I care if others judge me, unless foul words are spoken then I have no interest in what people say, I respect others opinion. I like to listen to other people's stories.
Fell in love with yuri after reading Strawberry Shake sweet. then chatting at the amber teahouse, then some touhou and nanofate doujins. Yes, from the innocent sweet romance that is yuri to the more sweet and intense romance-that-can't-bee-seen-by-my-family-or-else-i'll-get-disowned type of yuri.
I play the guitar but I've never been good at it, any tips would be greatly appreciated.
Favorite guitar piece: last kiss by pearl jam, what's up by 4 non-blonde, tolete, torn by natalie imbruglia.
main genre: yuri
others: anything that doesn't involved poorly drawn characters and supper cheesy romance
Thanks for all the support: : Mayson-san, Crossnova-san, TOD-san, Zen-san, Zeph-san, Richardo-san, Koikon-san, Plaki-san, Shippo-san and Little Cloud
current yuri meter: medium
this is me eating your yuri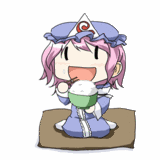 (The yuyuko is hungry: would you offer her your yuri doujins)
do you want a cookie? yes i want a cookie. here have a cookie. yes we all love cookies.
weeeeeeeee
self-philosophy:
Practice doesn't always lead to perfection. It leads to boredom. Keep everything in balance.
Enjoy life to the fullest every mistake is a lesson and by the time it has pass you'll be laughing every single bit of it.
If life's a bitch, then smile, rather than sitting in a corner and complaining; remember to never let life get the best of you, rather grab the best life has to offer.
I found out that Life's a Tsundere.
Being a hypocrite doesn't mean that you are a liar, there will always be that time when you just have to place something higher than your life's philosophy.
thesis motivation
Currently in Spartan--thesis mode with adviser bonus. Effect on player: DS will be reduced by 80% D:
---
Community Stats
Group

Members

Active Posts

2,821 (3.82 per day)

Profile Views

3,257

Member Title

I have the Fever

Age

23 years old

Birthday

November 8, 1989

Gender

Not Telling

Location

inside the yuri closet

Interests

*hides*
Contact Information
Viewing Profile: blindsight