Zion Setsurozaki
Member Since 22 Aug 2008
Offline
Last Active Aug 22 2011 06:28 AM
About Me
Things about me hmm

Alright punks I'm back and I plan to be bigger then ever. With overflowing ideas for my comics and cards I'm going to make you sick of me mwahaha. For those that I have bombed in there profiles, you guys are great friends. For those whom I haven't, be prepared cause I'm coming for you to make you my friend >D
Things I like:
01. Yukari Yakumo (devoted lover and man slave)
02. Drawing
03. Reading novels and manga
04. Making amvs
05. Touhou
06. Writing comics
07. Chatting for long periods of time with ppl.
08. Sub animism crew (provided by myon)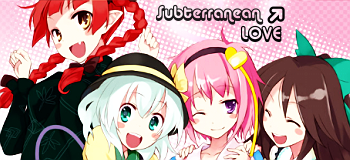 09. Making Touhou Magic cards
Things i dislike:
01. Grammer xD
02. People way too into games (you know who im talking about)
03. Mainstreamers
04. Critics who only wanna put you down for laughs
05. Kaguya (burn with hatred!!!)
06. Not being able to chat with ppl.
Touhou girls i like:
01. Mistress Yukari Yakumo (duh xD)
02. Yuyuko Saigyouji (butterfly ghost)
03. Koishi Komeji (closed eye)
04. Utsuho Reiuji (bomb bird)
05. Rin Kaenbyou (fiery cat)
06. Keine Kamishirasawa / Ex Keine (fluffy tail)
07. Youmu Konpaku (dual swordswoman)
08. Sanae Kochiya (cute miko)
09. Mystia Lorelie (singing sparrow)
10. Aya Shameimaru (bunbunmaru)
PC-98 fave girls: (sigs provided by teh great Myon =\/)
01. Mima
02. Shinki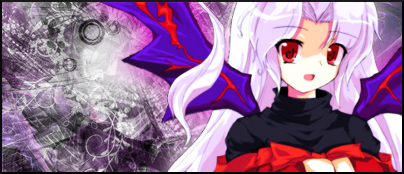 03. Yumemi
04. Gengetu
05. Mai
Touhou music faves:
01. Border of Death IOSYS
02. Venerable Ancient Battlefield
03. Necrofantasia
04. Septette for the Dead Princess
05. Border of Life
Favorite games:
01. Perfect Cherry Blossom
02. Scarlet Weather Rhapsody
03. Subterranean Animism
04. RosenkreuzStilette
05. Fraudenstachel
06. Ar Tonelico 2 Melody of Metafalica
07. Atelier Iris 3 Grand Phantasm
08. Yggdra Union
09. Imperishable Night (only for yukari playable)
10. Touhoumon
Friends that support me on ds:
01. DBM (We all know him)
02. Myon (Stubborn as a mule but loveable)
03. Noldesu (fellow ally)
04. amaseth777 (leader and ally)
05. Rainbow_Rena (Need I say more)
06. Gemmy (Yeap =\/)
07: Krad (swr teacher)
08: Juriesute (she cool =\/)
09: Acher13 (youmu)
10: Kuro XIII (My comrade forever)
Favorite Videos:
Favorite Pictures: (Yukari can be loli too dangit)
---
Community Stats
Group

Members

Active Posts

655 (0.38 per day)

Profile Views

3,947

Member Title

Shikigami Zion Yakumo of the Void

Age

27 years old

Birthday

January 28, 1986

Gender

Male

Location

Yakumo Mansion

Interests

Hmm, well i like lady yukari, lady remi, most anything to touhou. i love drawing, writing fanfics, and reading other ppls fanfics. so thats my interests o_O
Viewing Profile: Zion Setsurozaki