-Author's notes-
All information I've written is mostly based off my experience through trial and error and guesses with inference. Therefore, I apologize for any mistakes and would greatly appreciate it if you can provide me with details or translations. I'll try to add on any information if I come across them so do expect updates. Also, I'm not entirely too sure as to which section this thread should belong to so please forgive me. I intend to fill up as much details, such as the list of spellcards as well as the requirements to unlock certain things.
Oh, and any discussion about the game is welcomed.
-Links-
ENV Sphere list & Equipment List
Assist Ability List (Credits goes to Gnawzer)
-Menus-
Home Menu
1. Card Page : Arrange your cards and level them up if you have the means to. The Assist ability is also found in their respective characters.
2. Figurine Collection : You can upgrade your figurines here as well as move them accordingly.
3. Config : This is where you go to save or load your game. A record for the number of battles done with a character is located here along with the Ace system.
4. Sleep : Advances the day as well while leading you to the dream menu.
5. Go out : This option is removed when you have done 3 actions for the day.
a. The amount of money you have.
b. The day number of your game.
Outside Menu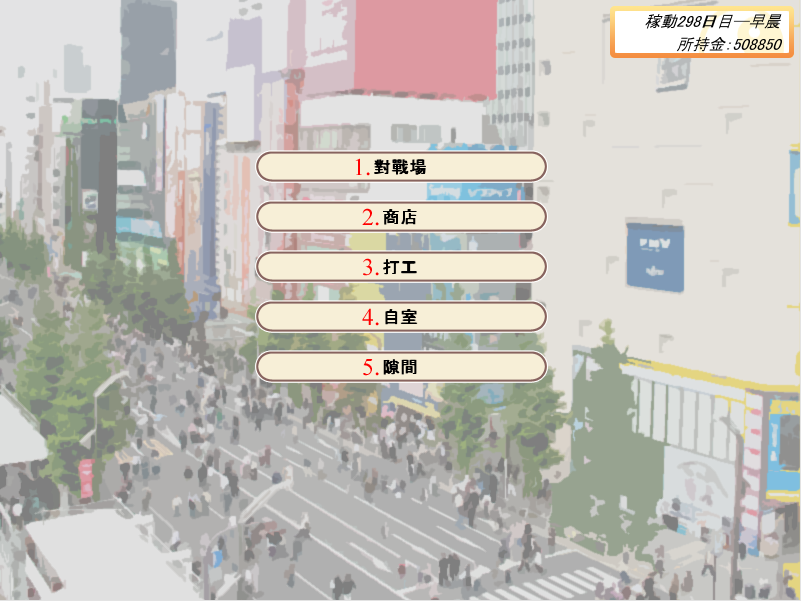 1. Battle Arcade
2. Shop
3. Work : Earns you money. The amount of money you make is affected by your rank.
4. Go back home : You can use this to level up your characters in between battles or to end your day faster.
5. [Spoiler Warning] This brings you to Gensokyo. It will be unlocked after a certain event. More information can be found in the Gensokyo section.
Battle Arcade
Free Arcade : This is where you will spend most of your time training. After a long time into the game, EX rank will be playable at the price of 12800.
Special Cup : A regular tournament consisting of 3 rounds. Only available in D, B and S ranks. However, the 3rd battle will always be a grade higher. If you win all three battles, you will receive a large sum of money as a prize.
a. Quiz Battle : A memory matching card game consisting of 20 pairs of cards. Winning them will grant you bonus multipliers for money and "EXP" and can occasionally give you costumes for your characters. Appears randomly.
Shop
1. Card packs : Comes in various prices, mainly 1000, 1500, 2500. Each set will have a different combination of cards you can get. Some characters have 5000 set packs that will contain a Unison Card.
2. Figurine Gachapon : This is where you get new figurines. All gachapons cost 5000 and will give you a random character within the set.
3. Expand Figurine Slot : At a price of 15000, you gain 8 more slots. Can be upgraded to a total of 8 x 8 slots.
4. Leave
-Figurines-
Different characters have different stats. Some are better meant for dodging while others can hit accurately. It is important to factor them into how you raise your characters' stats. Per every click on the arrows, you add a small amount to that stat, while adding a level. All characters have a level cap of 500, after which, you won't be able to raise them anymore.
Stats
体力 = HP
霊力 = Starting MP
霊集 = MP Regeneration Rate
速度 = Speed - Determines the turn order
攻撃 = Attack
命中 = Accuracy
回避 = Evasion
爱 = "EXP" of your figurine (I know it doesn't mean EXP but let's just keep it simple)
The Reform button will be unlocked later in the game. More details will be given in the Reform section.
The Move button is used to move your characters around to either allow an easier selection for battle or to initiate certain dream sequences.
The Custom button will bring up a menu that will allow you to change the appearance of a figurine and to equip items on them. Each figurine can only hold one item.
-Spellcards-
The options available to your figurines are limited to your spellcards. You can only have up to six cards usable within a battle.
Leveling up a card
You require two same cards, level does not matter. You just click on the card you want to upgrade, hit the LVUP button and click on a copy of that card. Upgrading cards can increase the HIT bonus, Critical rate, damage percentages, effect percentage and sometimes, modify the MP cost.
Be careful while upgrading cards as it will always raise the level of the first card selected by one. If you were to upgrade a level 2 card with a level 5 one, you will end up turning both into a level 3, which is a complete waste.
Assist Ability
Every character has their own Assist Ability. Some takes longer to level up, some have more levels but the methods of earning Assist Points are all the same. Each time you complete a dream event, you can gain a fair amount of Assist Points. Higher level events will give more points compared to lower level ones. You will also gain Assist points when you level up a card, the higher the level, the more points you get.
-Dreaming-
At the end of each day, your three figurines located at the first three slots will appear within the menu. Different characters have different sequences, some requiring certain characters to be placed within the other two slots while others require you to unlock them first. All dream sequences have a level requirement. More often than not, the enemies fought within a dream have increased stats.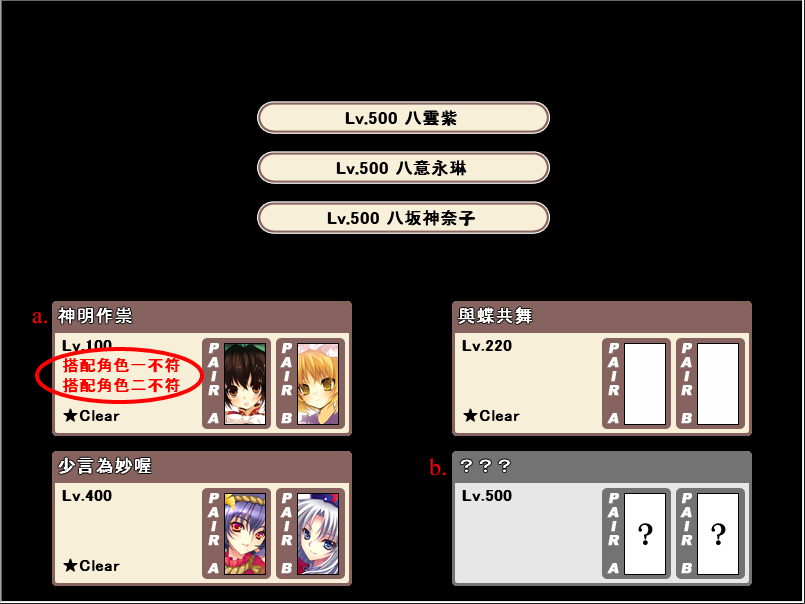 a. This means that you do not have the required characters in the other two slots. Originally, they will show a question mark on the portraits instead but after you have cleared them, they will show the characters required.
b. Locked sequences require you to perform certain tasks to unlock them. Most will require you to complete another one to unlock another, however, there are a few exceptions that require you to lose in a certain dream sequence to unlock them.
-Battle System-
You have to select 4 figurines you have for each battle, the last of which, will be placed into the assist slot where their Assist Ability will take effect.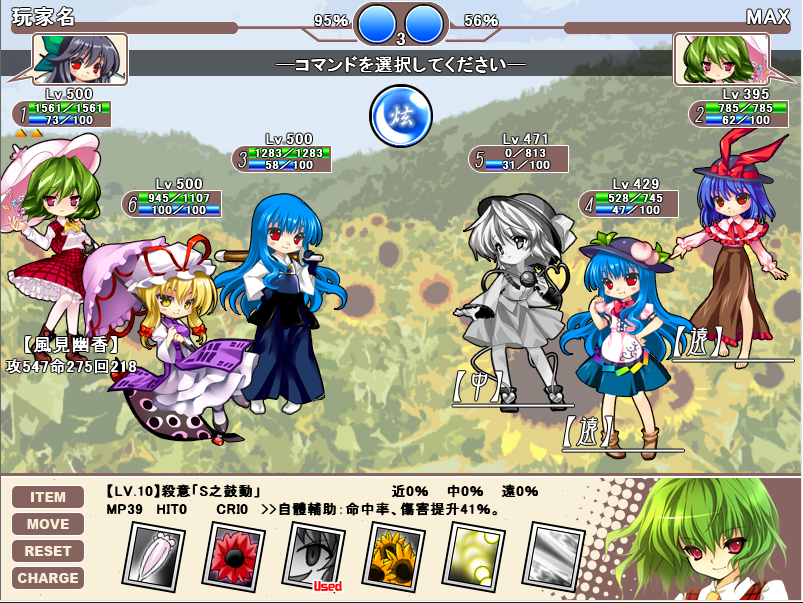 Each spellcard does different damages depending on the positioning. When enemies are one or two squares away, they will receive damage according to the percentage on [近]. When enemies are three squares away, they will take damage according to [中]. Anything further than 4 squares takes damage based on [遠]. The total damage is based off your figurine's attack stat multiplied with the percentage.
Each Spellcard can only be used once before it has to be recharge which is what the RESET button, located at the bottom left is for.
CHARGE will provide you the full amount of your figurine's MP regeneration rate,
MOVE allows you to swap positions of your figurines. It can also be used to swap with your assist character. However, if a figurine died, it will stay in the field regardless of how you swap positions.
ITEMS will show all the ENV Spheres you have. If you click one, it will appear in the ENV indicator. It will not work if there is a sphere taking up the left slot of the ENV indicator.
Some spellcards have effects that can reduce the stats of your opponent or drain MP. While others are support cards. They can do various effects such as reduce damage, increase your evasion rate, prevents damage, reflect damage and more.
Located at the top is the ENV.Sphere indicator. When a sphere is in the left most slot, it will come into effect upon the end of a round. If it is on the right, it will move to the left first after the end of the round. Activated Spheres will float below the indicator as seen in the picture.
The number in between the ENV indicator shows the number of rounds the battle has taken. When it is 6 or higher, you will be given the option to Resign, located slightly above the menu at the bottom. This is useful for intentional losing.
In case you are having difficulties understanding how the positioning works, please refer to this diagram.

For A, no matter how an enemy is placed, he will either be close, or mid. This makes it an ideal spot for characters with close-hitting cards such as Youmu and Tenshi.
In B's position, some spellcards that hits both close and far can be utilized much more effectively
As for C, it provides great range for cards that hit distant enemies.
Union Spellcards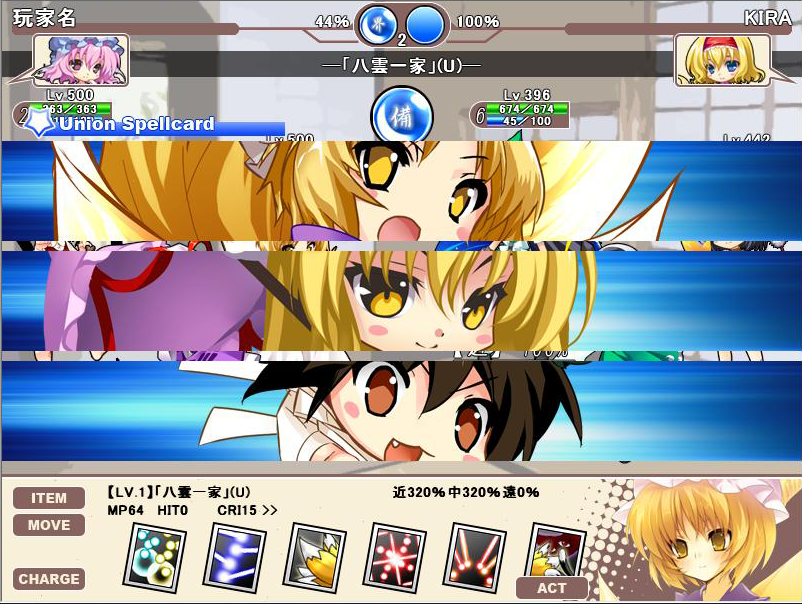 Some characters have Union spellcards, they are shown with a (U) at the end of their name. These cards require specific characters to be within the field while having sufficient MP to perform. All participating characters of the Union spell will use up the cost of the card. However, you will only need one copy of the card. For example, if you are using the Union Spellcard with Marisa, Patchouli and Alice do not need to have the card.
Union spellcards can only be obtained from the 4th card machine, which not every character will have.
List of Union Combinations
Marisa, Alice & Patchouli
Marisa, Yuka & Mima
Yukari, Ran & Chen
Sanae, Kananko & Suwako
Reimu & Yukari
Sakuya & Youmu
Yukari & Yuyuko
Tenshi & Iku
Remilia & Flandre
Eirin & Kaguya
Komachi & Orin
Nitori & Utsuho
Battle Rewards
After a battle, you will be brought to a result page. It will display the "EXP" gained by your figurines. If you win, you will get to choose a prize out of 6 random cards.
You can get the following from the prize.
1. ENV Sphere
2. Money
3. Equipment
4. Gift
Or nothing at all.